Our Services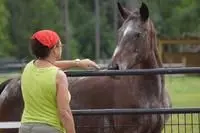 We work with a wide range of clients and offer a highly personalized approach tailored to both individuals and teams. Dovecot Farm provides a supportive space, one where we help clients attain the professional and personal growth they are striving for.
We offer sessions at our equestrian retreat, on the phone or at your offices. We will start with an initial assessment to clearly define your short and long term goals. Our programs can be designed to facilitate different objectives ranging from improving communication skills, developing resilience-building strategies to nurturing a more coherent team.
Our programs are focused on achieving greater Emotional Intelligence through Wellness and Leadership modalities.
Dovecot Farm incorporates a blend of holistic modalities such as equine interactions, integral sound healing, mindfulness in nature, DISC Self awareness coaching and HeartMath breathing techniques.
We love to help you build your wellness toolkit.
Emotional Intelligence is defined as the ability to identify, assess, and control one's own emotions, the emotions of others, and that of groups.
The agenda is yours. Dovecot Farm enables a thriving safe container. Our programs facilitate personal and team development.
Our values drive what we do & how we deliver it.
Compassion. Collaboration. Authenticity. Integrity.
We specialize in the following areas:
Personal Growth
Professional Development
Relationship Coaching
Communication Skills
Confidence & Personal Power
Inner Peace
Achieving Balance
Organization & Productivity

Equine Facilitated Learning & Coaching is a unique way of coaching clients, while interacting with horses from the ground. We will explore new ways of working and create a way of living that is in harmony with your heart's desire.
Our programs are non-riding with hands on sessions with an equine partner. We offer private sessions and retreats as well as group/ team programs.